This page contains links to bioinformatics resources useful to track the evolution and progression of the SARS-CoV-2 virus as well as to manage genomics data of the virus.
Portals with COVID-19 genomics and epidemiologics information
Nextstrain is an open-source project to harness the scientific and public health potential of pathogen genome data. They provide a continually-updated view of publicly available data with powerful analytics and visualizations showing pathogen evolution and epidemic spread.
NCBI Virus is a community portal for viral sequence data from RefSeq, GenBank and other NCBI repositories. To find, retrieve and analyze data, please select an option below.
The GISAID Initiative promotes the international sharing of all influenza virus sequences, related clinical and epidemiological data associated with human viruses, and geographical as well as species-specific data associated with avian and other animal viruses, to help researchers understand how the viruses evolve, spread and potentially become pandemics.
They share resources and best practices to develop a COVID-19 disease map. Aiming to set up a map of mechanisms focused on host-pathogen interactions, specific to the SARS-CoV-2 virus.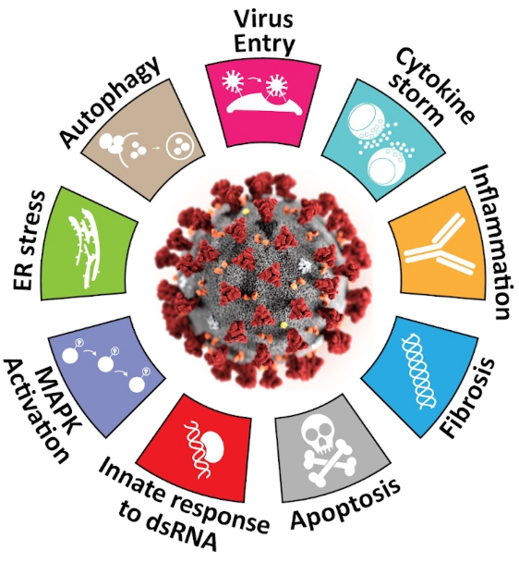 The COVID-19 Portal will enable researchers to upload, access and analyse COVID-19 related reference data and specialist datasets.

In the first instance, as the COVID-19 Portal is being built, all COVID-19 data stored at EMBL-EBI is being aggregated into a dedicated page on the Pathogen Portal. EMBL-EBI expects that during April, a first version of the COVID-19 Portal will be live. Watch this page for updates.
The CoV2ID evaluates molecular methods for detection of SARS-CoV-2 and treatment of COVID-19. The database evaluates the available oligonucleotide sequences (PCR primers, RT-qPCR probes, etc.) considering the genetic diversity of the virus. Updated sequences alignments are used to constantly verify the theoretical efficiency of available testing methods. Detailed information on available detection protocols are also available to help laboratories implementing SARS-CoV-2 testing.

Bioinformatics resources